Presidential candidate seeks to punish giant tech firms like Facebook, Amazon, Google and Apple
28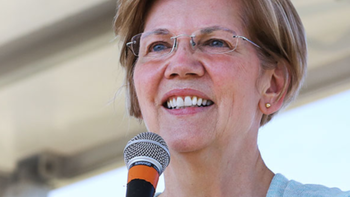 Senator Elizabeth Warren (D-Mass) has already thrown her hat in the ring and is one of a number of Democrats seeking the party's nomination for the 2020 presidential election.
In a blog post
published today, Warren announced a proposal to break up the country's largest technology companies including Amazon, Apple, Facebook and Google. Warren's plan calls for regulators to be appointed who would be tasked with the job of unwinding tech mergers that "illegally undermine competition."
For example, under Warren's proposal, Facebook would be forced to unwind its purchases of Instagram and WhatsApp. Google would be forced to give navigation app Waze its independence along with Nest and Double click, and Amazon would have to relinquish Whole Foods and Zappos. To improve the security of users' personal data, companies would not be allowed to transfer or share this data with third party firms. Right now, some firms share this information with third party firms to help them sell targeted advertising.
"Here's what will change: Small businesses would have a fair shot to sell their products on Amazon without the fear of Amazon pushing them out of business. Google couldn't smother competitors by demoting their products on Google Search. Facebook would face real pressure from Instagram and WhatsApp to improve the user experience and protect our privacy. Tech entrepreneurs would have a fighting chance to compete against the tech giants.""-Senator Elizabeth Warren (D-Mass)
Warren's plan would create two different tiers of tech firms. One group would include those companies grossing $25 billion or more globally. Called "Platform Utilities," these firms would not be allowed to own an online marketplace and sell their own products on it. Amazon Marketplace and its AmazonBasic brand is an example. Warren says that this will allow smaller companies to sell their wares on Amazon without having to face competition from Amazon itself. Under this proposal, Google would be forced to spin off its search business. The other group would consist of companies reporting global revenues under $25 billion annually. While firms in this group would also face some regulations, these smaller companies would not face the same restrictions on selling its own products on commerce sites they own.
The plan also would allow State Attorneys General, or injured consumers, to sue when a company has violated the new rules. Any company found to have violated these regulations would be forced to pay a fine equal to 5% of the firm's global revenue.
Warren isn't the only Democratic presidential candidate seeking to impose more regulations on tech firms. Vermont Senator Bernie Sanders and Minnesota Senator Amy Klobuchar have both sought to reel in tech companies. California Senator Kamala Harris, who represents firms located in the state such as Apple and Google, has focused on the hot button issue of consumer privacy. She has yet to address limiting the influence that tech giants wield.