Dude buys iPhone XS in Russia, pays with a bathtub full of coins
20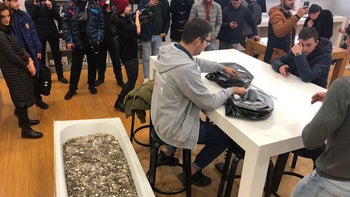 The iPhone XS is not only a popular phone: in many less developed countries, it's also a status symbol, showing wealth and prestige in social circles. Put simply, it's a highly desired item for reasons not only related to it being a good phone.
So what happens when you don't quite have the means, but you have the desperate desire and some time to put one of the most elaborate pranks ever pulled off just to buy the latest iPhone XS?
At least this is what the picture above portrays, according to Ludmila Semushina, head of the Apple — re:Store, an authorized Apple device seller in Russia. The group of men carried a full-sized bath tub full of coins with the intention to buy one brand new iPhone XS. There was approximately 100,000 Russian rubles in the tub, which amounts to more than $1,400 US dollars, which is the exact price of the iPhone XS with 256GB of storage in question.
And if you wondered why there is a whole group of men waiting for the new phone, well, the reason is simple: it took that many people to carry the heavy bathtub inside the store. With all this, congratulations to the buyer and condolences to the clerk who had to count the coins.
Recommended Stories