Dry Case's Waterproof Vacuum Seal keeps your iPhone dry in up to 100 ft of water
9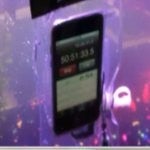 By now, we've all probably been exposed to some kind of rugged tough case for the iPhone that enables you to use the handset under water, but with most solutions, they're priced so steeply to make you altogether forget about it.
Well, don't be too discouraged about it seeing that
DryCase
is here for the rescue in providing an inexpensive solution that allows you take your favorite gadgets under water. Sure you can go old school and rely on a mere Ziploc bag, but you're riding on that thin line of danger.
Luckily, the DryCase is vacuum-sealed and allows you to still use touchscreen devices, like the iPhone, in up to
100 feet of water
. Additionally, you're still able to interact with the touchscreen of the iPhone while it's inside of the case. And with the addition of the optional DryBUDS, which is waterproof as well, you can continue to listen to your favorite tunes while in the water. Unlike some of the rugged tough cases out there in the market, the DryCase is priced at a reasonable $40 and will work with most popular devices out there.
Not convinced yet about its potential? Well, you can check out the video demonstration below at CTIA to see what it's all about.
source:
Dry Case