@DroidLanding teases giant robot AR game - D:Com Mission Alpha
5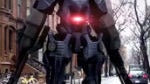 Earlier the
@DroidLanding Twitter feed
unexpectedly came online after being dormant since November. The feed has always been used to signify the launch of a DROID branded device on Verizon, so we were very curious what would come next. Well, it's not a device; rather, it's an augmented reality game called D:Com Mission Alpha.
The game will apparently feature "50 foot tall" robots (mech warriors, if you prefer), and is under the DROID Combat branding, which leads us to assume Verizon wants to make a series of games. The "mech wARriors" have missile systems and such, so we would guess that the point of the game will be to build and fight robots in the "real" world, via augmented reality.
No specific release date has been announced, but the game will be made available sometime this month. And, given that it sports the DROID branding, we'll also assume that the game will be exclusive to Android devices, and possibly exclusive to Verizon.
Recommended Stories