Dreamy iPhone 6 concept shows new glam look for Apple's next big thing
22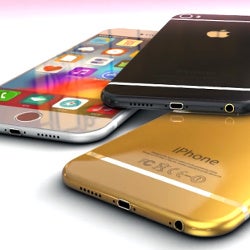 There is no shortage of rumors and leaks about Apple's upcoming iPhone 6 - after all, we're approaching the time of the year when everyone starts wondering about the next big thing coming from Cupertino. As more and more details about the iPhone 6 surface, we're also getting a much more accurate idea of what we can expect.
This dreamy iPhone 6 concept takes clues from the leaks of dummies from China and all the rumors, combining them into a glam-looking 3D-rendered concept of what the next iPhone could be. All we've heard about is accurately depicted - the different position of the buttons, even the rumored cutout for the Apple logo.
Of course, being just a concept, it's a daydream that you should not take at its face value - but hey, it's a very lucid one and dreaming is not forbidden after all. If you want to really get dirty with leaks and rumors, though, feel free to also take a look at our big
iPhone 6 round-up here
.