Draw Slasher for iOS allows you to slice, chop, shear, and cut morbid monsters
2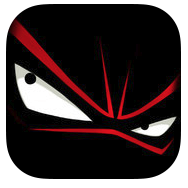 Oh, you love playing Fruit Ninja? You find furiously swiping your smartphone's screen quite entertaining? If the answer to these questions is "Yes", Draw Slasher might suit to your liking.
Draw Slasher is an arcade slasher game, which is quite similar to the forenamed Fruit Ninja in terms of gameplay. It is a remastered and enhanced version of a 2012 title, called Draw Slasher: Dark Ninja vs Pirate Monkey Zombies.
You play as Hanzo, a ninja trainee that finds his village ransacked by a bunch of horrifying monsters. What's more, Hanzo's kin has been abducted by these wrongdoers. As you might have already guessed, you and your fingers have to aid the ninja and his katana sword in his quest to punish the misshapen foes. Oh, and don't forget to help him find his family, too!
The gameplay of Draw Slasher doesn't stray away from the roots of the game genre. You'll have to unleash the wrath of Hanzo by swiping with your own fingers. You can make him perform different combos and techniques. Hanzo is always present on the screen, so, apart from dismembering the different monstrosities, the ninja will have to evade different traps (such as napalm) and dodge various obstacles (with the aid of your touch input, of course).
However, Hanzo's movements are somewhat limited by a stamina meter – once it's full to the brim, you can perform longer slashes and various combos, but if it has been depleted, don't expect the avenging ninja to woo you with acrobatic skills and deadly swings. Additionally, both Hanzo's stats and his katana-wielding techniques can be further upgraded.
Draw Slasher comes with some additional game modes, too. If you don't feel like saving Hanzo's family, you can chop zombies in the unlockable Survival and Gatekeeper game modes. These two allow you to engage in an endless massacre against numerous waves of macabre mutants, whose only life goal is to bathe in Hanzo's blood.
Draw Slasher is currently available on iOS devices and will damage your wallet by $2.99 if you decide to give it a try.
Download: Draw Slasher (
iOS
)