Double standard alert: Visa and Mastercard to charge wallet apps
8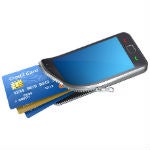 Mobile payments are a nice dream, and there are a number of different solutions that are trying to become the standard. But, many of the options share the same problem: they have to go through existing payment systems like Visa and MasterCard. And now, Visa and MasterCard want to start charging wallet apps to play middle-man.
The way it currently works with mobile payment services like Google Wallet, PayPal, or LevelUp is that the service (called a "staged wallet") acts as a middle-man between you and your credit card or debit card, which often are either Visa or MasterCard. Visa and MasterCard already charge the store you're in for each transaction run on a credit/debit card, but now they want to also charge the middle-man, because Google and others get in the way of Visa or MasterCard getting the direct customer data about you.
MasterCard has already announced that it would start charging a "staged digital wallet operator annual network access fee", which essentially means it will start charging Google and PayPal when wallet apps are used. And, Visa's CEO Charlie Scharf said that "it is totally appropriate" to charge a fee like this. Of course, wallet app operators don't agree, and eBay, the owner of PayPal, has listed this fee as harmful to its business in a new SEC filing.
If these fees do go into effect, it will no doubt spur some talk of anti-competitive behavior since MasterCard has its own mobile payment app, MasterPass, and Visa has its payWave app. We'll have to keep an eye on that.