Doors & Rooms 2 is an addicting room escape puzzle game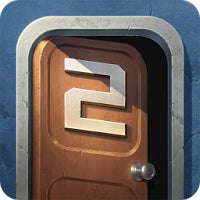 When was the last time when you played a room escape puzzle game? If it has been a while, then here's one that's worthy of attention. It is called Doors & Rooms 2 and it is the sequel to, you guessed it, the first Doors & Rooms game from 2012.
As it is easy to figure out, your goal is to find a way to get out of the room that you're trapped in. That is done by finding the hidden door key – a process that requires some serious gray matter activity. The first few stages are pretty easy, of course, as they're made to get you introduced to the game's mechanics. But the later levels get a lot more challenging.
If you ever get stuck on a level, there are clues that you may use. These cost coins, and coins are won after clearing a stage. They are also awarded for solving optional riddles. Extra coins can be bough for real money, although you shouldn't need to do so if you put your thought and observation skills into a level.
Graphics are rather simple and mostly static with only some animated objects here and there; don't expect a masterpiece of the rank of
The Room Two
. But they're decent, and they don't put a strain on a handset's hardware.
So yes, if you're looking for something to test your brains with, then here's a game you can try. Doors & Rooms 2 is free to play, with 30 levels waiting to be beaten.
| | |
| --- | --- |
| Developer: Gameday | Download: Android, iOS |
| Genre: Puzzle, room escape | Price: Free (with in-app purchases) |