Doom 3: BFG Edition unleashed on Nvidia's Shield tablet & TV box
7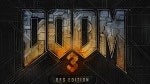 After releasing a native port of Half-Life 2 for its Shield series of Android gaming machines, Nvidia continues with the interesting strategy of showcasing its mobile hardware's graphics might by making it play decade-old PC titles with the release of Doom 3: BFG Edition.
Available from the Google Play store for owners of the Nvidia Shield Tablet and Shield Android TV, the $10 bundle includes the original Doom trilogy, optimized for Android-compatible gaming controllers. This is very important to be aware of, as neither of the games supports touch screen input. Thus, owners of the Shield tablet must buy a gamepad, while Shield Android TV owners have one already. ID Software's classics have received other modern day touch-ups, such as achievements, rendering improvements, and checkpoints.
Also, Doom 3: BFG Edition includes "The Lost Mission" expansion pack, which consists of 8 additional levels that spin an alternate storyline. Needless to say, much demon shooting is involved.
If you own a Shield and feel in the mood for saving the Earth from infernal forces (again), head to the download link below and grab a copy.