Doogee F5: $140 full-HD phablet with liquid metal frame and fingerprint scanner hits pre-order
28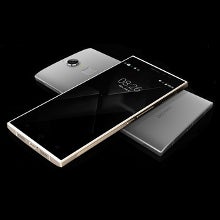 $140 doesn't tend to buy you much in the smartphone world these days, particularly if you happen to prefer some of the higher-end quirks. Chinese firm Doogee has thrown out the rulebook, though, having delivered a slew of handsets in 2015 that offer strong features on a budget. The
new F5 smartphone
sees the company outdo itself once more, packing an octa-core processor, 1080p display, fingerprint scanner and liquid metal frame into a bundle costing just $139.99.
If you look at some of the newer entrants to the smartphone market like the
Galaxy Note5
or the
iPhone 6s
, you'll notice that their starting price is in the latter hundreds of dollars. Even subsidized by a contract, you're expected to pay upwards of $100 for the privilege of owning the latest brainchild of the Big Two. But while Doogee is decidedly Bush League compared with the might of Samsung or Apple, it seems refreshingly unafraid to throw down the gauntlet in such a crowded market.
The F5 is the latest of a hatful of releases from Doogee, and in terms of technical specifications, one of its best yet. For a price equivalent to your monthly coffee bill, this device boasts a 5.5-inch, 1080 x 1920 IPS display, a MediaTek MTK6753 64-bit octa-core chip, a healthy 3 GB of RAM and 16 GB of on-board storage space.
To the rear, there's a 13-megapixel shooter atop the fingerprint scanner, and you get an 8-megapixel cam on the front. There's 4G LTE for snappy browsing and downloads, as well as the usual connectivity options like Bluetooth 4.0 and GPS. Software-wise, it packs Android 5.1 Lollipop from the get go.
It looks a pretty sweet deal for a nicely-designed smartphone, and if you're interested, shipping commences from September 30th. It's hard to fathom how a company can produce so much for such a minimal fee, and with free flat-rate shipping, it's a prospect that may tempt many into taking a risk on an up-and-coming brand.
Pre-orders are now being taken, with the aforementioned shipping phase starting in a couple of days' time. More details and purchase info can be found at the source.