Don't expect MediaTek to release chips that support Windows Phone in 2014
10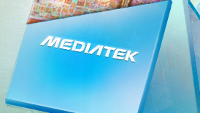 With its focus on 4G chipsets for the booming Chinese 4G market, and on 3G chips for Chinese manufacturers exporting their wares, MediaTek doesn't have the time to start focusing on Windows Phone this year. Additionally, the company is expected to start shipping a pair of 64-bit CPUs during the third quarter. In other words, the company's plate is already full.
With an R&D department that is manned by 10,000 workers, the lack of a Windows Phone product isn't due to MediaTek's inability to produce such a product. Instead, the company is providing solutions for areas where business is red hot. Right now, that means it is working on 4G chipsets featuring both quad-core and octa-core technology.
This is the opposite approach to the one being taken by Qualcomm. The latter is building Qualcomm Reference Design handsets for Windows Phone. The first smartphones to be built based on the reference design will be launched in the second half of this year.
source
DigiTimes