Does texting a driver make you responsible for eventual accidents? Judge will decide on Friday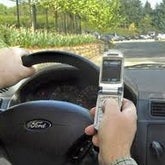 In 2009, texting while driving got 19-year-old Kyle Best into a serious car accident. While replying to a text message, his pick-up truck collided with a motorcycle injuring severely the two people who were riding it. As a result, he is being sued in a New Jersey court, and what makes this case really interesting is that
the sender of the text message may also be held responsible for the accident
.
That is so because Shannon Colonna – the girl who sent the text message, was well aware of the fact that Best was driving at that very moment. Furthermore, the two people had already exchanged several texts prior to the collision, which further reinforces that statement.
"They were texting back and forth like a verbal conversation,"
ABC News reports.
"She may not have been physically present, but she was electronically present."
At the same time, the girl's attorney insists that the driver should have checked the incoming message at a suitable time, not behind the wheel, meaning that the sender should not be held liable for any damage.
That texting while driving poses a serious safety threat is an undisputed fact, and we have discussed the topic here more than a few times. However, this is the first time when we have the person on the other side of the conversation potentially facing some serious consequences, which is what makes the case interesting. The outcome is expected to become known on May 25, when Morris County Superior Court Judge David Rand will state his ruling. In the meantime, do not hesitate to share your opinion with us by dropping a comment. Should the sender of a text message assume any responsibility if that leads to an accident?