Does closing Reader hurt Google in the future?
4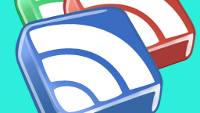 If the name Chris Wetherell doesn't sound familiar to you, perhaps you know the product he invented eight years ago. Wetherell is the creator of
Google Reader,
the news aggregating application that was
shut down on Monday
despite a huge following. He says that if he had come up with the idea today, he would have launched it outside of Google and built it up independently of Mountain View.
Almost completely overlooked in the decision by Google to close Reader is the precedence it is setting for current and future employees. There is no longer any incentive for workers to bring their best idea to management, knowing that even if a new idea becomes wildly popular, it could get shut down. Jenna Bilotta, a former Google UX designer who worked on the Google Reader project with Wetherall, says that "
If people have an amazing idea that they feel passionate about, it may almost feel safer to leave the company to protect your idea
." If Wetherall and Bilotta had left Google and brought out Reader on their own, who knows what they might each be worth now? Hoping to capture lightning in a bottle once again, the pair has teamed up to develop
Avocado
, a private messaging service for couples that is available for iOS and Android.
"If you have this big idea, It might be easier to leave the company. You might feel this. I'm not sure. But someone might feel like they should just leave the company rather than finding a way to explore it within Google and then have Google say in a couple years 'It doesn't matter how many millions of people are using the thing, we've got larger concerns. I suspect that if I were Google leadership I would be concerned that people are not going to be as free with amazingly great ideas as they would be before. I would be concerned that I wouldn't be encouraging people to build treasured things. I don't know if that's what's happened."
-Chris Wetherell, Creator, Google Reader
Bilotta, like many others, still scratches her head over Google decision to 86 Google Reader. "
I think the reason why people are freaking out about Reader is because that Reader did stick. The numbers, at least until I left, were still going up
." While the decision by Google to close Reader affects many people now, in the future it might be Google that gets hurt if the best ideas from inside the company end up developed
outside
the company.
source:
Forbes