Does a new Lumia 900 ad may hint at Windows Phone 8 Live Tile functionality?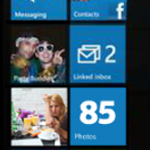 This is an interesting find: if your online advertisements include the international version of the
Nokia Lumia 900
, you may have seen an advertisement lately that includes some rather odd imagery. The phone spins around in the Shockwave-based ad, showing off different features of the Live Tiles of Windows Phone 7 (you can view the ad in our source link).
Seems like a perfectly logical add for a Windows Phone device, but close viewing shows the Live Tiles behaving in a way that isn't possible on WP7. In the ad the Contacts tile flips over and provides additional information (in this case "Meet up with Sarah"). The Photo Hub tile also changes, splitting to show the latest photo and a photo count. Where does this new functionality come from?
It's tempting to ascribe these changes to some inaccurate image-hackery by whoever put the ad together, but the ad isn't merely showing off different tiles, it seems to actually be showing the same tiles with new functionality, revealing additional information related to the tile being interacted with. With no major updates expected before
Windows Phone 8
ships in the second half of this year, could this ad be something of a sneak peak of things to come? We can't say for sure, but expanding the utility of Live Tiles sure seems like a logical addition to the next major release of Windows Phone.
What do you guys think? Did an advertising agency get carried away, or is this a hint of things to come?
source:
PC Advisor ad
via
WPCentral