Doctors can predict the outbreak of a disease by tracking mobile phone use
3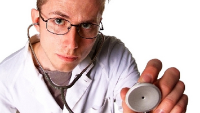 A recent study has come up with some interesting theories including one that shows how patterns of smartphone use can predict how a disease will spread. On Vodafone's Global Enterprise page, a recent study was mentioned that used "socially aware" mobile phones at MIT to monitor student's behavior. 70 residents living in an undergraduate hall were given special handsets that tracked their movements, including how often they moved and how often the phones were employed.
Students that were ill used their phone less, making fewer calls late at night and early in the morning. They also had a tendency to move around less than students who were feeling well. By monitoring these variables, it is believed that outbreaks of the flu can be caught earlier than the old way of looking for it. That consisted of collecting information from Doctors, many who write with third grade penmanship. By the time the information could lead to any type of pattern, it often was too late.
"This technology could be an early-warning system to enable us to spot outbreaks of influenza."
-Anmol Madan, study co-author
With 5.6 billion mobile phones in use globally, tracking human behavior has become easier. And that is especially true when you consider that there are certain traits that people have called Eigen behaviors. These include things like
going out on the town
,
sleeping in late
or
working at home
. There are only six of these behaviors and certain combinations of them tend to predict the behavior of a person with 90% accuracy. Combine that with a powerful tracking tool like a mobile phone, and you can understand how the phone will be used more and more to predict when and where certain diseases and illnesses will strike.
source:
EnterpriseVodafone
via
Textually.Org