Doctor treats a 4 year British girl with Apple iPad addiction
24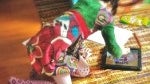 A 4 year-old girl from the South East of England has been playing games on her parents' Apple iPad since the
age of 3
. Now, she has been diagnosed by her psychiatrist, Dr. Richard Graham, as having iPad addiction. When the tablet is taken away from her, the girl suffers from withdrawal symptoms which in her case include tantrums and uncontrollable behavior. Dr. Graham said that the girl's parents should be praised for seeking out help and had they done nothing, by the time she became 11 years-old, she would have required in-patient care.
Dr.Graham's clinic charges £16,000 a month ($24,377.60 USD) for his digital detox program which is designed to treat those addicted to tablets and other devices by weaning them off the devices. Some of his clients spend
36 hours straight
online and some have up to 20 Facebook accounts. The U.K.'s National Health System is set to recognize Internet Addiction Disorder with General Practitioners getting to see the term listed in new manuals.
"Don't leave your iPad around because if you do, and children see all the pretty colours, they will want to use it too. They can't cope and become addicted, reacting with tantrums and uncontrollable behaviour when they are taken away."-Dr. Richard Graham, Capio Nightingale Clinic
source:
news.com.au
via
TechRadar