Docomo announces it will launch Sharp's 3D Android smartphone sometime in December
2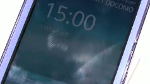 We have already
reported
a few times about Sharp's 3D smartphones due out by the end of this year. We had written about the Sharp 003SH and the Sharp 005SH. The latter is equipped with a QWERTY keyboard but an 8MP camera compared to the 9.6MP shooter on the 003SH, which is being called the Sharp Lynx 3D. Neither phone will require glasses to obtain the stunning 3D effects.
The Shjarp 003SH has a 3.8 inch touchscreen, a digital T.V. tuner and is powered by a 1GHz processor. Throw in the camera and you have a super spec'd phone even without the 3D effects. The handset is available in black, white or blue and will be launched only in Japan by Docomo sometime next month with Android 2.1 aboard. An upgrade to Android 2.2 should happen in early 2011.
While 3D could be the next mobile gimmick, that doesn't mean that we should just let this handset bypass the States. If the demand is there for this feature, we are sure that Glasses-free 3D will be something that will be seen throughout the globe.
source:
Docomo