Do you still believe there's room for a third major player in the smartphone market?
53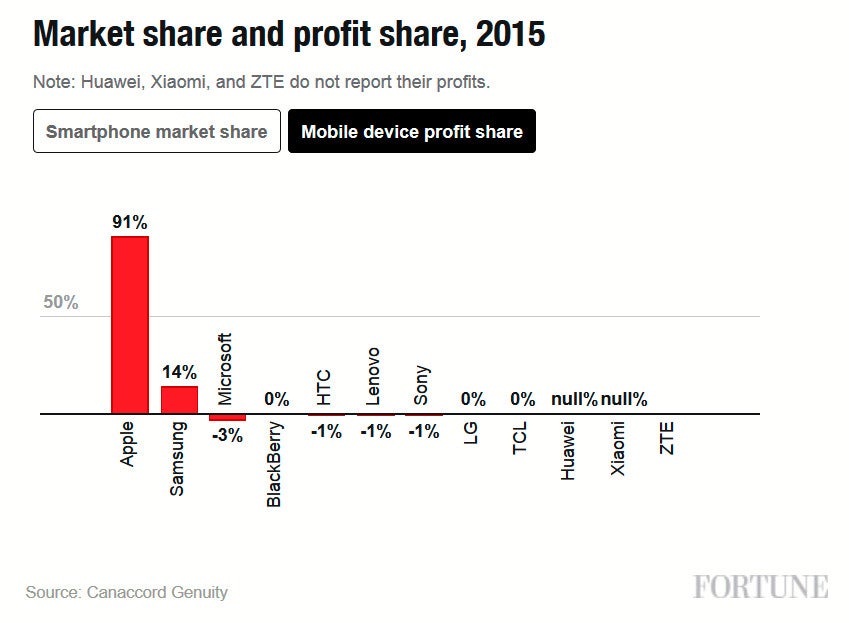 Today, there are more smartphone manufacturers than ever before. Whether we're talking about established, decades-old companies like LG, HTC, Samsung, Apple, and Sony, or upstarts from China and India or elsewhere, it's fair to say that we have an unprecedented freedom of choice. There's almost certainly a manufacturer that caters to just what you need.
And yet, pretty much without exception, all of these makers make little to no money from their operations.
A recent report by Fortune
, based on data by Canaccord Genuity, shows that Apple grabbed an incredible 91% of profits within the smartphone industry, with Samsung a distant second with 14%. Combined, that's 105% of the profits split between just two of hundred companies (105% because the rest had losses). That's a pretty disconcerting fact, and one that we've been well aware of for years now. Essentially, nobody but Samsung makes any real cash in Android land, and even Samsung makes almost nothing compared to Apple.
As can be seen from the chart at the top, everyone else is either barely breaking even, or losing money from its smartphone division. Inevitably, if nothing changes, it's likely that, at some point in the future, these companies may decide that exiting the market is the sensible choice—specifically since most of these companies are publicly-traded. At some point, they might have to appease shareholders by ditching the arm.
With that in mind, the question we've been pondering internally is whether there's really enough room for a third major player at this point? Looking at the hard data, it seems to us that any one of these can only catapult itself into profitability land with a breakthrough product, or at least a smartphone that is objectively better than competing products from the same cycle. But without a healthy balance sheet, that sounds unlikely. What do you think?