Do Pigs fly? Verizon teams up with Skype for calls over 3G and more
11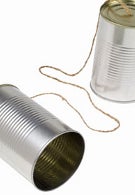 When Verizon
met with
Eric Schmidt and Google all those months ago, Big Red started a change from being a closed carrier to one that has opened itself up enough to announce that they have teamed up with Skype. Starting this March, the new Skype mobile product will be available for use on Verizon Wireless' smartphones, giving those with the proper data plans a chance to make calls globally to Skype users. In return, Skype customers will have access to family, friends and business connections using Verizon in the U.S.. At launch, the service will be supported by 9 Verizon smartphones and will be expanded. The models are the BlackBerry Storm 9530 and the Storm2 9550, the Curve 8330, 8530, the 8830 World Edition and the Tour 9630. Others included are the Motorola DROID and DEVOUR and the HTC DROID ERIS.
The new service will allow for Skype-to-Skype voice calls around the globe using Verizon's 3G network, International calls billed at Skype Out calling rates, the ability to send and receive IM's to Skype users and you will be able to stay connected around the clock with the ability to see if your friends are online. Both companies brought out some top guns to get the word out. Executive vice president and chiefmarketing officer for Verizon Wireless John Stratton said, "Skype mobile on VerizonWireless changes the game. For Verizon Wireless' more than 90 millioncustomers, Skype mobile adds great value because we're effectivelygiving customers with smartphones and data plans the option to extendtheir unlimited calling community to hundreds of millions of Skypeusers around the globe. And you're not limited to using a single typeof phone; we'll have nine smartphones ready right at launch in March." Josh Silverman, chief executive officer of Skype, said, "People want to take their Skype conversations with them wherever theygo, whether it's on a PC, TV or increasingly mobile phones.
VerizonWireless
will give U.S. consumers the best Skype experience on mobilephones and will truly change the way people call their friends andfamily internationally." With this 180 degree change in approach to being open, Verizon continues to surprise. What's next, guys?
source:
Verizon