UPDATED: Verizon and Google to make Tuesday morning announcement
12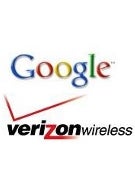 Google and Verizon have scheduled a joint press conference for 10am Eastern Time today. You might expect some big news considering the presence of Eric Schmidt and Lowell McAdams, the CEO's of Google and Verizon respectively. Now we do know that Big Red is closing in on its first Android handset, but that unit was expected to be the Motorola Droid/Tao/Sholes and we are struck by the absence of the Schaumburg based firm from this press conference. Whatever is announced, we'll pass it on to you.
source:
EngadgetMobile
*UPDATE*
: Verizon Wireless and Google have just announced a
newly-established agreement
, according to which both companies will cooperate in order to deliver devices and services, based on Google's Android platform. As the press-release states, the carrier will make announcements of new Android handsets within the next few weeks and these devices will be developed by leading manufacturers (although it isn't specified which manufacturers will take part). Did you expect this? Not one, but an "array of [Android] devices" should soon be available through Verizon, and that's official! More details about this newly-formed agreement will be announced later at the live webcast event, so stay tuned!
source: VerizonWireless
*UPDATE*
: The
webcast has come and gone
, but unfortunately Eric Schmidt and Lowell McAdams did not disclose which will be the handsets we should expect. However, they did stress on several things and to start with, Verizon is to roll out two Android-based devices by the end of the year. Second, they intend to keep releasing such devices during the next several years and finally, all these offerings will be loaded with applications, developed by the carrier, Google and 3rd party developers. And that's basically it! Now we wait for the announcements...