Display comparison: Samsung Galaxy S5 vs. HTC One M8, Sony Xperia Z2 and LG G Pro 2
99+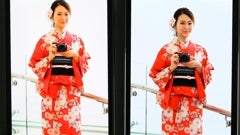 Since the
Samsung Galaxy S5
hasn't been released yet, for now we can't properly compare it to other flagship smartphones of this year. However, ePrice China has somehow managed to gather the S5, the
Sony Xperia Z2
(which isn't widely available at the moment), the HTC One M8 and the
LG G Pro 2
under the same roof - this leading to a pretty awesome photo shootout.
ePrice didn't simply photograph the four high-end smartphones next to each other. It also used the occasion of having them in the same room to compare their displays.
As you'd expect, the LG G Pro 2 is the largest among the four devices, as it sports a massive 5.9-inch panel. The 5.2-inch Sony Xperia Z2 comes second, followed by the 5.0-inch HTC One M8, and the 5.1-inch Samsung Galaxy S5 (yep, those BoomSound speakers on the front of the M8 make the handset quite large for its class).
All four smartphones offer the same pixel resolution: 1080 x 1920. This means that the HTC One M8's screen has the highest ppi density (441 ppi), while the screen of the LG G Pro 2 provides the lowest ppi density (373 ppi).
Here are the shots comparing the display quality (unfortunately, only the first two photos are in high-resolution - make sure to zoom in):
What do you think, which of the four Android beasts looks better? Which display does the best job? Or, while we're at it, which new handset would you rather buy, assuming they'd all be released in your region, and money was no object?
source:
ePrice
(translated)
Recommended Stories