Digital Crown? Meet the Digital Bezel in Samsung's rounded smartwarch
25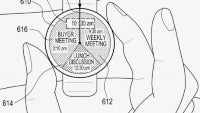 It should come as no surprise that Samsung has yet another smartwatch in the cards. And by the looks of it, it's a well-rounded one - at least if a recently unearthed patent from May last year ends up being anywhere near the real thing! It shows a Moto 360-like watch, whose watchface shows the time and an agenda spread over three blocks. Much more interesting, however, is the interactive bezel. Instead of going old-fashion with a digital crown, Samsung added a rotating bezel.
Not unlike the iPod's touch-sensitive circular controller, this bezel will let you scroll through apps, lists, and menus without having to touch the display and obscure it with your finger. Speaking of menus, this watch will most probably be a Tizen-powered one. Android Wear in its current state is rather light on menus and applications, and it won't really lend itself to a more elaborate interface like the rotating bezel - still, this is just speculating on our part.
In terms of functionality, Samsung may have added a camera to recognize images, objects, and barcodes, which could prove handy in its Samsung Pay pursuits. If the circular watch is to be a flagship model, it will have to be tightly integrated with the payment service that Samsung is raising to battle Apple Pay, which is taking a significant role in the Apple Watch.
It looks like Samsung has a good idea of where it wants to take its smartwatches now, and if it manages to cram the right hardware in an elegant body (which the company has gotten remarkably good at, judging by the Galaxy S6 and the Gear Fit), it may end up with the a serious Apple Watch competitor. Of course, the final product could actually have little to do with the patent we're seeing, but nevertheless, we expect Samsung to exercise some serious product in the smartwatch codenamed 'Orbis'. The eventual announcement could happen this fall, possibly around the annual IFA conference in Berlin (4-9 September 2015). And that's all we know so far! More news as they come.