Did you know that your smartphone holds 20 times as many bacteria as a toilet seat?
41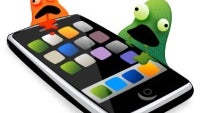 Sorry, guys, but we had to spill the dirty truth. Your shiny, precision crafted smartphone that you've been obsessing over? You're not able to see them, but its screen has up to 20 times as many bacteria than your average seat de toilette does. In other words, that thing's absolutely disgusting, and we demand you to get it out of our faces right away! Ew!
See, back in 2013, researchers from consumer group Which? did some bacteria-laden testing. They took 30 smartphones and tablets that have been used daily by folks just like you and us, then they took turns swabbing them and counting the amount of nasty per swab. The results are foul! One tablet left 600 units of the staphylococcus aureus bacteria on the cotton after each swab, and that's not even the filthiest one that the researchers dealt with! The worst tablet had a count of 15,000 units of enterobacteria per swab! Meanwhile, eight of the 30 tablets and seven of the 30 smartphones each had more than 1000 units of enterobacteria per swab. That's downright toxic stuff, folks, especially considering that the typical toilet seat has a staphylococcus aureus count of less than 20 per swab, and less than 10 units per swab of enterobacteria.
The worst tablet had a count of 15,000 units of enterobacteria per swab!
So, how come a smartphone or tablet harbour such abhorrent amounts of filth? According to the study, the reason is all too predictable - we rarely clean our gadgets, and when we do, we don't clean them properly. We also don't put much thought into the process, you know. A quick swipe on your sleeve is good enough, right?
Thankfully, the mobile technology industry has already come up with a solution for our collective germ problem.
Corning already offers an antimicrobial Gorilla Glass to its customers
, with the new ZTE Axon being one of the first examples of the technology in action. The coating is able to kill up to 99.9% of on-screen bacteria, at least on paper. Meanwhile,
Microsoft has patented an UV light system
that's able to automatically disinfect mobile device touchscreens, as well as the user's fingertips. Future Lumia phones and Surface tablets stand first in line to get this technology.
Of course, you don't have to wait for brave industry innovation to weaponize yourself against the army of germs invading your touchscreens. A pack of wet wipes and a sheet of blotting paper will do just fine in your crusade for proper hygiene. Just don't be lazy and use them daily!
To end this article properly, we invite you to
take the Oatmeal's quiz
, which, following a questionnaire, will estimate the amount of germs throwing a toxin party on your screen. Ray's got 1,348,200 on his iPhone 6. Paul's got 1,078,560 on his Galaxy Note Edge. Daniel has 2 million on his Meizu MX4 Pro. Chris's Xiaomi Mi3 is home to 1,123,500 germs, and Luis is too embarrassed to disclose his numbers. What can we say, we work a dirty job, but someone's gotta do it!
via:
Daily Mail