Did you know that you can turn your smartphone into a hologram projector?
13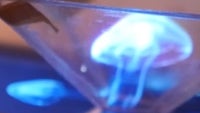 Without question, holograms are a part of sci-fi movies that we're totally nuts about! There's something about the unstable, ethereal appearance of a floating object in the air that's just so 24th century! To our surprise, it turns out that the smartphones and tablets we have today are perfectly capable of pulling off a fine hologram — it may be tiny, but it definitely looks the part.
Don't believe us? Check out the video below where all the magic involved is showcased and explained! The best part is that you can do all of it by yourself. The process isn't too involved, but it may bring you back to those childhood moments where you made all sorts of stuff out of paper, plastic, and whatever else you had around.
To turn your smartphone into a sci-fie movie asset, you'll need the following stuff: graph paper, a CD case, tape or super glue, pen, scissors, and a knife or glass cutter. You'll have to draw a nice symmetrical trapezoid on graph paper, cut it, and use the template to cut out a bunch of mini trapezoids from the transparent plastic CD case. Then you simply tape the pieces together into what looks like a tiny pyramid.
Next, you have to load a 3D hologram video — you can find
a ton of those in this YouTube channel
. Place your trapezoid in the center of your smartphone's screen and behold, a tiny hologram will appear to dance inside the trapezoid pyramid, a tiny slice of the future that awaits!