Did you know that trained dogs can be used to sniff out cell phones?
6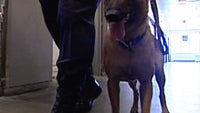 Your phone stinks... quite literally. We can't detect our gadgets' specific odors, but dogs sure can, as it turns out. In fact, did you know that dogs, with their acute sense of smell, can be trained to sniff out cell phones? Yup, and they have been used in prisons to detect smuggled handsets for almost a decade.
A cell phone is, of course, an item that an inmate is not allowed to have possession of. Having one would potentially allow them to run their illegal activities from behind bars. Or what's probably worse, to organize their escape. That is why smuggled cell phones have to be confiscated, and dogs can help with finding them even if they are well hidden.
The first dog trained and used solely for the purpose of sniffing out cell phones was Murphy, a springer spaniel. The pup was 15 months old when its duty as a phone sniffer began in Norwich Prison, UK. That happened back in 2006. Murphy was so good that it could even differentiate between phones that belonged to prison guards and phones that had been smuggled in. Phones hidden in wall cavities and wrapped in plastic bags were also not that big of a challenge for Murphy.
Today, dogs trained to find cell phones are on duty in prisons across the US. Cell phone smuggling is still a problem, yet its effect is being reduced as hundreds of illegal handsets are detected by K-9 units each year.