Did you know that they sell smartphone undies in Japan???
35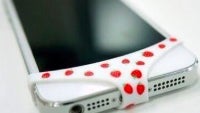 When it comes to buying smartphone accessories, the sheer variety of stuff out there can be mind-boggling. There's your relatively mundane (and actually useful) stuff like car holders, battery packs, spare cables, screen protectors, cleaning kits, et cetera. There are also
gourmet food
and
phosphorous crustacean
cases. And then there's smartphone underwear. You got that right!
In Japan (where else?!), smartphone users who are concerned about insensitively exposing their handsets' private parts can apparently solve their problem the same way they'd do it for themselves — by buying a comfy pair of
pantsu
! The fun accessories are produced by toy maker Bandai and obviously lack any practical purpose besides, you know, making your phone look like it forgot to put on its pants this morning.
Nevertheless, Japanese teens and the odd middle-aged citizen, perhaps, went pretty crazy over the SmartPants, as they are called. Having found success in its new product slash undergarment line, Bandai followed up with silicone smartphone underwear imprinted with all kinds of patterns — animals, bananas, Mount Fuji, you name it. As for the undies themselves, there are all sorts of models imaginable — bikinis, jockstraps, briefs, whatever. They usually cost as little as $2 a piece and are sold in vending machines. They love vending machines in Japan for some reason!
If you want to score a pair of pants for your all-too-naked handset, you don't need to go all the way to a Tokyo vending machine to do so. A set of 7 pantsu can be found online in Japanese import stores such as J-Box. However, the $40 price tag isn't something we're especially keen on.
source:
Oddity Central