Did you know that there used to be phones running Windows XP?
26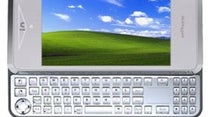 Remember 2009 and the phones we had back then? The year was marked by the releases of a number of great models, including the
iPhone 3GS
, the
Motorola DROID
, and the
Nokia N86
. The ITG xpPhone, however, couldn't really shake the mobile landscape with its announcement 5 years ago. In fact, we bet that most of you have not even heard of it.
The ITG xpPhone was a peculiar niche device – a phone that ran Microsoft's Windows XP operating system. It was the Embedded version, to be more specific, which was very similar to the Windows XP we once had running on our PCs. This allowed it to run PC software, including Microsoft Office, Internet Explorer, and perhaps some not-so-demanding video games. Hardware-wise, it had to offer a 4.8-inch touchscreen, a slide-out QWERTY keyboard with a touchpad, a mobile processor by AMD, up to 1GB of RAM, and an SSD-HDD combo with up to 64 and 120GB capacities respectively. Plus, a full-sized USB port was present.
The xpPhone, however, wasn't the only member of the rare breed. ViewSonic announced its own Windows XP-powered phone that same year, the VCP08. Unlike the aforementioned handset, ViewSonic's offering had a dual-screen, clamshell design – flipping it open revealed its 4.3-inch screen and its QWERTY keyboard. Under the hood were an Intel ULV processor, 512MB of RAM, 8GB of storage expandable with the use of microSD cards. On its back was a 2MP main camera.
The fate of these two odd devices isn't clear, but apparently, ITG sold enough xpPhone units to justify coming up with a Windows 7-based successor. As for ViewSonic and its phone lineup, all of the company's current smartphones run Android.