Did you know that the Hyundai once launched a "perfumephone"?
8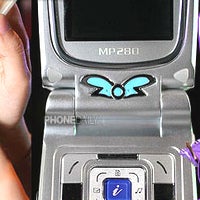 History has seen a ton of
unusual, bizarre, and downright creepy phones
. The Hyundai MP280 is one such handset, even though at a glance, there doesn't seem to be anything peculiar about it. Yet, it was a phone like no other thanks to its, how should we put it, fragrant properties.
Released in parts of Asia back in 2005, the Hyundai MP280 stood out with its built-in, user-refillable perfume container (the "butterfly" under its screen). It could hold a couple of drops of perfume, which was enough to sustain the release of a pleasant scent in the air for about 8 hours. Needless to say, the phone was made with ladies in mind.