Did you know that Samsung used to make military and security technology?
18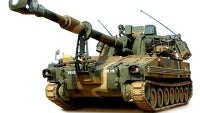 Most of us know Samsung for its consumer electronics presence, including mobile devices. Whatever piece of technology you want that's viable for your kitchen, living room, bedroom, or other house facilities - you can buy it with a Samsung logo proudly perched on a visible spot. But there's a side to the Korean mega corporation that you probably aren't in touch with, and maybe for the better! We're talking about Samsung Techwin, a surveillance, aeronautics, optoelectronics, automations, and weapons technology company with a winning name!
Techwin started out relatively peacefully, making cameras in 1979, but by 1987, it was making helicopters, jet engines, and mobile artillery for the Korean army. Somehow, the company had no problem running its camera business on the side, as it pushed the Samsung Kenox digital cameras on the market in 1997. Though that didn't stop Techwin from making Korea's first fighter jet, the KF-16, that very same year!

At the turn of the century, Samsung handed over its aircraft business to the state-owned Korea Aerospace Industries, and kept on making cameras with the occasional K9 Thunder on the side. What's that? Well, it's the piece of vehicular destruction that's pictured on a leisury beach ride below, able to fire 155mm high-explosive, nuclear, anti-infantry projectiles at up to 25 miles (40km) away.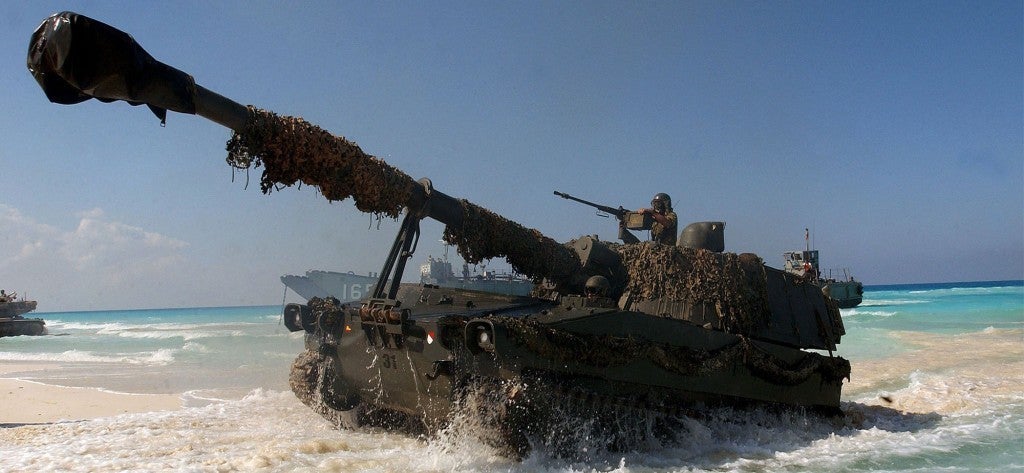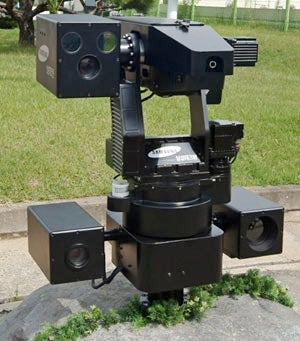 Password, please?
The K9 travels the field in tandem with the K10 Ammunition Resupply Vehicle (ARV), which is built on the same platform, carriers up to 104 shells, and has a maximum transfer rate of 12 rounds per minute. But the pinnacle of Techwin's achievements has to be the SGR-A1 military robot sentry gun. Designed to replace human soldiers in the demilitarized zone between the South and North Korea borders, the robotized machine gun can identify and shoot a target automatically from over 2 miles (3.2km) away, using twin optical and infrared sensors. It's also got built-in microphones and speakers, so it can play password-guessing games with potential adversaries. If one gives the wrong password, the SGR-A1 can sound an alarm, or fire at them with a swivel-mounted machine gun... presumably while laughing maniacally. One of these babies costs $200 grand, by the way.
Before Samsung sold its holding stake in Techwin to Korean conglomerate Hanwha Group in December 2014, Techwin had built products in the following categories during its 38 years of existence: CCTV (Surveillance) systems, gas turbines, engines for helicopters, self-propelled artillery, ammunition resupply vehicles), military sentry robots SGR-A1, and more. We can't help but wonder how much of the technology that Techwin made ultimately trickled down to Samsung's smartphones and tablets? Also, rest assured, Samsung doesn't make artillery today. Unless it buys back Techwin, it can no longer become the evil megacorp that will place the world under its obedience and rule it with an iron fist.
source:
Samsung Techwin
,
Security Today
,
Military Today