Did you know that Qualcomm used to make cell phones?
12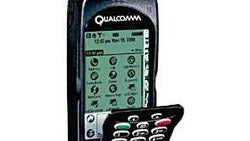 Unlike Samsung or Apple, Qualcomm is far from a household name. But it is often mentioned in our news, especially when a new Android handset breaks cover. That's because the company stands behind the popular Snapdragon SoC solutions – the powerful chips ticking inside hundreds of smartphone models from Samsung, LG, Motorola, and many others.
Qualcomm, however, is a company with 30 years of history behind it, and during that time, it has developed more than just chips for mobile devices. As a matter of fact, it was once a player on the cell phone market with its own cell phone models. One of them was the Qualcomm pdQ. Announced in 1998, it was the world's first commercial CDMA smartphone.
The Qualcomm pdQ smartphone was quite the technological marvel. It was designed with a flip keyboard which revealed a large, 160 by 240-pixel LCD display when opened. The user could access their email, browse certain portions of the web at blazing-fast 14.4Kbps rates, and run Palm OS applications, all while on the go. Until the lithium-ion battery, capable of providing 150 minutes of talk time, ran out, that is. The gizmo's processor ran at 16MHz and had a whopping 2MB of RAM at its disposal. At 9.8 ounces, the Qualcomm pdQ was as lightweight as a brick, but fell within the acceptable standards for the age. Any businessman with $800 to spare could own one of these.
Alas, Qualcomm's mobile division didn't last long and was eventually sold to Kyocera. But what was left of Qualcomm continued to fuel the wireless industry's progress with its chips and technologies. By 2007, the company was already the leading provider of mobile chipsets in the world.
references: Qualcomm,
CNN
Recommended Stories