Did you buy a Verizon iPhone 4 today?
43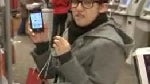 Yesterday
we showed you
video of Verizon stores preparing for their 7am opening today for the iPhone 4 launch. If you are interested in owning the device, did you make it to a store today and buy the iPhone 4 - or are you waiting until a later date to purchase it? As you're aware, the rumors of the Apple iPhone coming to Verizon are as old at the original AT&T iPhone's release. Now that it has happened, do you think it was worth the wait?
These happy customers sure think so, as showcased in the newest Verizon videos.
source:
Verizon Wireless