Did Nokia fake the still photos too?
75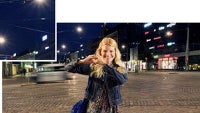 Yesterday, our eagle-eyed commenters were among the first to notice a weird reflection on what everyone was led into thinking to be sample video footage of the Nokia Lumia 920. That reflection in a van's window was pretty blurry, but still clear enough to see the cameraman holding a camera much larger than the Lumia 920.
Turns out, while all visible clues pointed this being the first demonstration of the new Lumia 920 camera capabilities, Nokia was only showing a simulation.
"This was not shot with a Lumia 920. At least, not yet. We apologize for the confusion we created,"
Nokia later officially apologized in a blog post. While Nokia blames it all on
"confusion,"
it's troubling to see something of that scale being confused.
And now, former Helsinki resident and blogger Youssef Sarhan is accusing Nokia of "confusing" not just the video, but the still images too. Looking at some of the image stills from Nokia's promotional video for the Lumia 920, Sarhan encountered an image obviously shot in Finland at dusk. Interestingly, he noticed the diffractions from city lights. Diffractions are that spikey star-like effect you usually get when shooting bright lights with very small aperture.


"It's impossible for a camera with a fixed aperture of f/2 to generate so many spikes from a light source. These kind of diffractions are typical of a DLSR camera with a smaller aperture like f/22. So, it makes perfect sense that if Nokia were to fake the video, they would also fake the stills; which they almost certainly have," Sarhan explains.
Can you trust Nokia after all this? The company apologized for the video and posted a new one, but maybe it should also issue an apology for the still photos.
source:
sefsar