Diamond-screen phones incoming!
15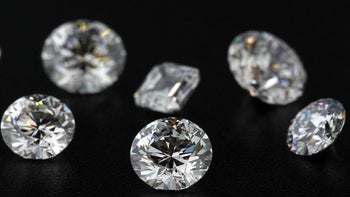 Lab-grown diamonds – the main material used to make Mirage Diamond Glass
Come 2019, we might see the release of the first phone to sport a diamond-strengthened screen.
The promising glass is named Mirage Diamond Glass and is made by Akhan Semiconductors – a company, specializing in developing and manufacturing nanocrystalline (made of miniscule crystal particles) based devices and materials. The company's CEO – Adam Khan, said the new glass will be stronger and harder than any other you've ever used. Mirage Diamond Glass is made of laboratory-grown diamonds and can be used in combination with with other screen-endurance technologies as well, such as Corning Gorilla Glass 3.
The material of choice for this promising project should come as no surprise, as the diamond, apart from being shiny and expensive, is also the most durable natural substance known to humans, so it makes sense using it to make this next-level, almost unbreakable screen. Current screen glass is made of a combination of aluminum, silicon and oxygen and then strengthened with the use of various chemical processes.
There are a couple of issues present before making the technology available for manufacturers. Currently, stress-tests have been taking place to ensure diamond is capable of transmitting electric signals, so touchscreen functionality is fully working and responsive, without any lag. Also, strength tests are performed to ensure the glass' durability. The company is also working on reducing glass' light reflection rate, so you don't need to pop-up brightness levels to the maximum. Last, but not least, comes the price tag. As you may have guessed, diamonds are far from cheap, so we expect the new technology to come on a higher priced smartphone at first, probably on a flagship.
Mirage Diamond Glass is currently being tested by device manufacturers, but their names are kept secret by Adam Khan. Regarding the availability of the upcoming glass, Khan said the company will work with one manufacturer from each given category, starting with a single smartphone and screen protector maker, and eventually expanding to other parts of the market.