Deutsche Bank analyst says investors are too optimistic about the Apple iPhone X
5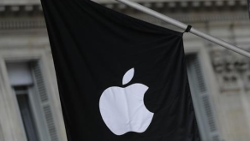 During an interview with business cable channel CNBC on Monday, Deutsche Bank analyst Sherri Scribner said that based on Apple's current stock price, investors are too optimistic about Apple's prospects. As she put it, "Expectations are pricing in more than Apple can chew." The analyst says that investors are expecting Apple to pull off a repeat of fiscal year 2015, which was led by the release of the
iPhone 6
and
iPhone 6 Plus
. With a larger 4.7-inch screen on the former, and Apple's first phablet represented by the latter, the company garnered revenue $31 billion above expectations.
The problem, according to Scribner, is that for Apple to score revenue $30 billion above expectations for fiscal year 2018, the company would have to ship 290 million iPhone units during the new fiscal year that started at the beginning of this month. The problem is, the best year Apple ever had was fiscal 2015 when the iPhone 6 upgrade cycle led Apple to ship a record 231 million handsets. Current Wall Street expectations call for Apple to ship 245 million iPhone units in fiscal 2018. It would be a new record, but could fall short of the number needed to meet investors' expectations.
While the
Apple iPhone 8
and
Apple iPhone 8 Plus
might not be enough of an upgrade to produce record shipments, the
Apple iPhone X
could help Apple toward reaching that goal. It's the first iPhone to feature an OLED display and it offers an edge-to-edge 5.8-inch screen. Throw in new AR features, the Portrait Lighting mode that creates dramatic backgrounds for selfies, and the new TrueDepth Camera with Face ID, and Apple is offering some exciting new features. But there is a price to pay to pay for all of these new capabilities. The complex TrueDepth Camera is proving to be hard to manufacture. As a result, Apple might have a very limited number of units available when the phone launches on November 3rd. Apple could decide to push back the launch date to December.
For fiscal 2019, Scribner sees a comparison to fiscal 2016 when the iPhone 6s series sparked a down year for Apple. She expects Apple to report a drop in sales for fiscal 2019.
"To beat expectations by a similar magnitude ($30B) this cycle would require that AAPL ship 45M more iPhone units in FY-18 than current expectations, or nearly 290M iPhones in total. We view this as highly unlikely...We believe it is more likely that unit forecasts decline, similar to the iPhone 6s cycle, and Street estimates for FY-19 need to come down to reflect a more realistic down year following the iPhone 8/X cycle."-Sherri Scribner, analyst, Deutsche Bank
source:
CNBC