Despite new technologies, pocket-dialing remains as prevalent as ever
20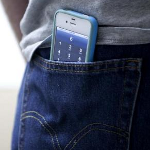 It's something that happens to all cell phone owners at one tine or another. You have your handset placed firmly in your pocket and the next thing you know, the phone is activated and a call is placed to one of your contacts, a recently dialed number or a random combination of numbers
without your knowledge
. Now, this is not the most terrible thing in the world unless you happen to reveal a secret or two that is transmitted by accident to the wrong person. For example, a pair of thieves had just recently ripped off a Target in Madison Wisconsin and while in the getaway car, bragging about where they were going to hide the ill-gotten goods, one of the crooks
pocket-dialed 9-1-1 on his handset
. The police heard the whole conversation and an arrest was made much easier than it might have been.
Apple iPhone
and most
Android models
, you can lock the screen by pressing the button on top of the device that can put your phone to sleep. Of course, that leaves you just another accidental button press away from making a call.
Besides pocket-dialing, another potentially embarrassing problem is pocket-texting. Of course, the odds that you will send a coherent sentence by accident is astronomical, but sometimes sending someone a message
comprised of nonsensical words
is just as bad as completing a phone call that was dialed by your butt. You would think that with all of the high tech goodness that today's smartphones offer, the handset manufacturers would have a better solution for this decidedly low-tech problem.
With the New Year coming, it is time for a fresh start. Fess up now and tell us your most embarrassing pocket-dialing or pocket-texting moment by typing it in the comments box below.
source:
USAToday