Despite deal with Sprint, Radio Shack says it would accept bid to liquidate
12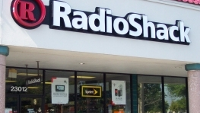 Just yesterday, we told you that Radio Shack had filed for bankruptcy and as a result,
Sprint could get retail space in as many as 1750 stores
. But as we pointed out, any deal has to be approved by the Bankruptcy Court in Delaware; until that happens, the company is still up for bids. Today, a lawyer for the beleaguered electronics retailer said that the company continues to accept any bids, even those from liquidators looking to pick up assets on the cheap.
Radio Shack lawyer David Fournier says that a better bid could top the one that will allow Sprint to take over one-third of the retail space in each of the locations that it leases. At a hearing in U.S. Bankruptcy Court, Fournier said "
We don't know exactly where we're going to end up
." The court will formulate procedures for bidding on Radio Shack's assets on February 20th. A hearing for a final sale is penciled in for March 12th, although that can change.
Under protection from bankruptcy laws, Radio Shack can continue to operate. The company has a deal to sell as many as 2400 of its 4100 stores to its largest shareholder, Standard General, whose General Wireless subsidiary will be offering the retailing space to Sprint. Meanwhile, Radio Shack wants to close 1700 stores before the end of this month in order to save $8 million in rent. A hearing will be held in Bankruptcy Court on Monday at which time the retailer will seek permission to shutter those locations.
Obviously, Sprint is hoping that no other bidder comes into the picture so that it can start selling "
mobile devices across Sprint`s brand portfolio as well as Radio Shack products, services and accessories
." Yesterday, Sprint CEO Marcelo Claure called Radio Shack's retail locations "
incredible
."
source:
Reuters