Dennis Woodside: there "might be a day" for a Moto Maker customized tablet
6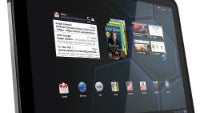 Motorola CEO Dennis Woodside doesn't do a huge amount of interviews; but, any time he does one, you can be sure that he'll be asked about whether or not Motorola is working on a tablet.
Marques Brownlee
recently asked him, and he said that the company's focus was on phones. Today, Pocket-lint asked Woodside the same question, and Woodside had a very similar answer.
This time, however, Woodside, left the door open a bit more. He said that there were a lot of people asking about a Motorola tablet with full Moto Maker customization, and he did admit that "there might be a day we do that", but of course he quickly turned the subject back to phones, saying that "the bigger opportunity for us is the 5 billion people without smartphones and the 1 billion people who have smartphones."
That definitely sounds a lot like a "one day at a time" approach from Woodside. Right now, Motorola is focused on emerging markets with its Moto G, and expanding the reach of the Moto X. Given the way Woodside talks, we certainly wouldn't hold our breath for a Moto tablet. Motorola hasn't had a tablet with buzz (no pun intended) since the XOOM (although you could argue that there wasn't much buzz with the XOOM either,) and we don't expect a Moto tablet anytime this year at least.