Dell shows off XPS Duo 12 Windows 8 tablet hybrid
9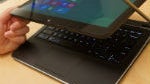 There have been a ton of devices shown off at IFA including a bunch of new Windows 8 devices, and it looks like Dell doesn't want to be left out of that arena. Dell is showing off a pretty slick design on its XPS Duo 12, which is a convertible tablet/laptop hybrid running full Windows 8, and will be the companion on the market to
Dell's XPS 10 tablet
running Windows 8 RT.
As you can see in the pictures, Dell is using a swivel design on the display to allow it to switch between laptop mode and tablet. It certainly looks nice, and definitely gives it a distinctive look compared to other Windows 8 tablet convertibles that we've seen, which tend to use a slider mechanism. As you might expect from the name, it has a 12.5" display, and is expected to have an Intel Ivy Bridge processor inside.
The XPS Duo 12 is made from aluminium and carbon fiber, and is expected to weigh about 3.1 lbs (1.4 kg), which puts it on the lighter side for a laptop, but could be pretty uncomfortable to use as a tablet for extended periods of time. No word on price, but the Duo 12 is expected to be released by the end of the year.
Recommended Stories