Dell reaffirms its commitment to Windows RT even though sales are below forecasts
3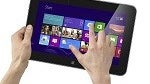 In the face of a lackluster reception, Dell will continue to develop products on the Windows RT platform, including a future generation of the
XPS 10 tablet
.
Neil Hand, a vice president at Dell, did not offer any dates or specifications to look forward too, but said that the next XPS 10 would be faster and lighter, two attributes that tend to follow many advances in technology.
While the XPS 10 has an attractive price point, and does not have any glaring deficiencies in this particular segment of Windows RT tablets, the "meh" reception given to Windows RT is the challenge to overcome. Mr. Hand believes that Windows RT has a chance to succeed even though "It's turned slower than we were hoping at this point in time."
While the near-term perception of Windows RT is limitations of the operating system itself, Hand notes that in the long term, that will not matter as the ecosystem to Windows RT and indeed Windows 8 is growing daily. Dell is interested in seeing how well
HP's upcoming Android powered Slate 7
does when it debuts at $169, but that will not guarantee that Dell will offer a competitively priced alternative, for now Dell will be focusing on 10-inch tablet designs.
While Dell
grapples with the prospects of becoming a privately held company
, its commitment to stay in the Windows RT game is good news for the OS and Microsoft. It does not have the maturity of iOS and the iPad, but it does have some familiar features that many find appealing, like Office and
hopefully soon, Outlook
.
source:
CITE World