As Dell prepares to go private, founder admits quick rise of tablets surprised him
7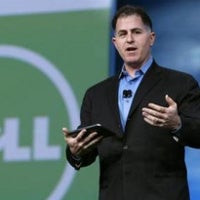 Smartphones and tablets have grown tremendously in the last couple of years but while that's all obvious now, a couple of years ago traditional PCs still seemed to have a steady growth pattern. Not anymore. PC sales have slowed down to zero growth (and some PC makers are in decline), a shift that is causing tectonic changes in the industry.
And the biggest deal that is about to happen is Dell going private as its founder Michael Dell is taking matters in his own hands in a desperate effort to bring the PC maker back on its feet. Dell is buying out the company from shareholders with the help of Microsoft in what is a
massive $23 billion deal
.
Shareholders still have to approve the deal, but if they do it will become the biggest transaction of such kind since the financial crisis began.
What is interesting however from our standpoint of smartphone and tablet watchers is the fact that Michael Dell has now openly admitted one of the biggest reasons for the decline of the company he started from his parents' garage nearly 30 years ago.
And you shouldn't be surprised to hear that it was tablets:
"I didn't completely see that coming,"
Dell said adding he did not expect to see business adopts tablets in lieu of PCs so quickly.
Dell certainly needs the freedom to make radical changes at the company he started. While we don't know what will be his move in this post-PC world, the company founder is known for his attention to minute details which should translate into great products. Time will tell if our guess is right.
source:
Wall Street Journal