Dell XPS 11 goes to Yoga classes, does a full 360 flip with a 2560x1440 pixels display
14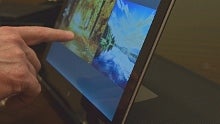 After the smorgasbord of announcements from
Asus
,
Acer
and
Samsung
, the announcement from Dell seems a bit on the humble side. The US computer maker demonstrated an
XPS 11
convertible tablet/notebook combo.
It's when you dig into the specs that you realize how significant Dell's achievement is. First off, the 11.6" display has the top-notch
2560x1440 resolution
, making it one of the handful of such panels, alongside tablets from Samsung and Asus. Not only that, but the system will be powered by a frugal but mighty Core i5 Haswell processor when it hits shelves in the fall.
The keyboard part is pretty unorthodox, too - it has very flat keys, similar to the touch-typing experience of the
Microsoft Surface
covers, and if you are wondering why, it's because the Dell XPS 11's screen half can bend full 360 degree backwards, converting it into a tablet when needed, similar to the
Lenovo Yoga
line. The keyboard goes off at 180 degrees, leaving you to the full Windows 8 touch experience only.
There are also a
pressure-sensitive stylus
input for doodling, sketching and handwriting, USB 3.0 port, Thunderbolt, and the whole set weighs mere 2.5 pounds, with
less than 15mm thickness
, which is a commendable achievement for a
carbon and metal chassis
fusion. No word on RAM and storage options, as well as pricing yet, but we should know more when this thing launches near the holiday shopping craziness.