Dell Venue Pro Hands-on
8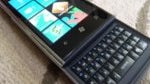 After experiencing a couple of hiccups since it initially launched, it appears as though the Dell Venue Pro is finally turning around and making its grand debut to the masses – just in time for the holidays; for some though. Although shipment dates may vary for those who purchased the Windows Phone 7 smartphone, some are sure to be surprised to see their gift waiting for them soon. So far, we've seen some stellar Windows Phone 7 devices that truly stand out more than others – such as the
Samsung Focus and HTC HD7
. However, the Dell Venue Pro just might have the guts and spark to really supplant all others as possibly being the best Windows Phone 7 device thus far.
First and foremost, we're glad to see that Dell is finally sending out units to customers who purchased their phones earlier on in the month – in fact, they should start to arrive shortly. However, for those who waited a bit longer, they're faced with the possibility of being phone-less until next year. In any event, there's not much to say about the included accessories that come packaged with the smartphone seeing that it's your standard set of items – such as the wall charger, microUSB cable, and documentation. Luckily, we do find the stereo headphones included to be
superior
to most offerings since they have those suctioned ear buds to really provide a snug fit when worn.
Initially taking hold of the device, we're blinded by its
beautiful and articulated industrial design
that quite easily stands tall amongst other existing handsets out there. Granted that it feels a bit overwhelming when grasping it, everything from its quality construction and choice of materials makes for one undeniably sweet handset that's worth flaunting. When looking straight at the device, it might look pretty similar to other WP7 handsets boasting WVGA (480 x 800) resolution, but its stark difference is the fact that it employs an AMOLED panel instead. Sure it's not at the same level as the Super AMOLED panel in use with the Samsung Focus, but the Dell Venue Pro's curved glass is one
striking characteristic
. Now even though it doesn't improve visibility in any way from our initial look, it's just a unique looking design that differentiates itself from everything else out there.
Some of the notable features include its 4.1" WVGA AMOLED touchscreen, 1GHz Snapdragon processor, 512MB RAM, 1024MB ROM, 5-megapixel auto-focus camera with flash, slide-out portrait style keyboard, aGPS, Bluetooth 2.1 with EDR, 3.5mm headset jack, and 802.11 b/g/n Wi-Fi. Unfortunately, it lacks a microSD card slot which means you'll have to choose between buying either an 8GB or 16GB model. Naturally, the other standout item with the Dell Venue Pro is none other than its portrait style physical keyboard which shouldn't conflict in any way with the platform. We'd imagine that the Windows Phone 7 experience should remain consistent to what we've experienced on other devices we've checked out; especially with its high-end specs in tow. At this point, it's quite telling that Dell has the capacity and talent to craft top tiered smartphones, but we'll see how the Venue Pro holds up in our testing.
Expect our in-depth review shortly!