Dell Venue 8 7840 goes on sale at Best Buy: world's thinnest tablet, first with Intel RealSense
10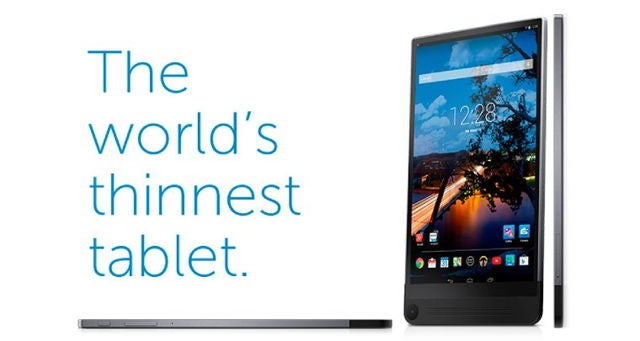 Intel's RealSense is quite the futuristic technology. It allows you to scan real-life objects and get a usable (or rather, printable) 3D scan; it also makes it possible to tell depth information and with an open SDK, the sky is the limit. The problem with it was that it was not really available to users of mobile devices.
This now changes, as the long-announced-but-never-really-launched Dell Venue 8 7840 finally gets reintroduced, and it sports an Intel RealSense camera. This, however, is only the tip of the iceberg. The Venue 8 7840 also arrives with a splash, taking over the iPad Air 2 as the world's thinnest tablet. The difference between the two, however, is minimal: both measure 0.24" (6.1mm), with the difference being in the numbers further behind the decimal point.
The Venue 8 7840 is also equipped with solid specs on its own: it features an 8.4" display with a resolution of 1600 x 2560 pixels, and it runs on Intel's Z3580 system chip running at up to 2.3GHz with 2GB of RAM and a suitable ImgTec PowerVR G6430 GPU. Internal storage is set at 16GB, and you can expand it via microSD cards.
The only slight let-down is that the tablet ships with Android 4.4 KitKat in times where Android 5.0 Lollipop is the buzzword around town. Let's not forget, though, that right now the only devices on sale with Android 5 are of the Google Nexus series, and let's keep our fingers crossed that the Venue 8 7840 will get updated quickly.
You can get the tablet for $400 off contract at the link right below.