Deep Fusion demo: before and after
34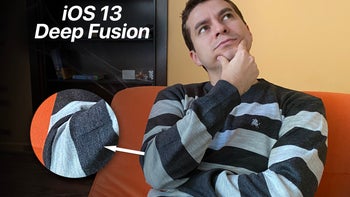 The latest iOS 13.2 software update is here and it brings one of the most anticipated new features to the
iPhone 11
series: Deep Fusion.
Deep Fusion is a new computational photography technique that improves the looks of photos and it's only possible thanks to the power of the Apple A13 chip in the latest iPhones (so it is not coming to older iPhones). What it does is capture a total of 9 images: four photos before you even press the shutter key along with four secondary images, plus one long-exposure photos once you press the shutter button. After that, the A13 chip analyzes all the pictures and extracts more detail out of them, a process Apple summarizes as "computational photography mad science."
And it sure sounds cool, but can you really see the difference in real life and is it the game-changer Apple paints it to be?
Let's take a look at the pictures:
< Regular Photo
Deep Fusion >
< Regular Photo
Deep Fusion >
< Regular Photo
Deep Fusion >
< Regular Photo
Deep Fusion >
Clearly, the differences are not huge and if you are looking at the photos on your phone, chances are you are not seeing any differences at all.
The truth is that Deep Fusion does bring a change, but it is a thing that you will truly appreciate only if look at the photos up and close.
Here at the office, we have 22-inch monitors, and we did a quick blind tests with a few Deep Fusion photos, and on such a big screen, regular people were able to spot a difference easily, describing the Deep Fusion photos as sharper and more detailed.
To illustrate those differences, we have a few crops where you can notice the following benefits:
A.
you get a lot sharper photos
B.
details like sweaters, furry items, or strands of hair look more pronounced and arguably, better
Overall, images look a bit more granular and contrasted, and we like this look:
However, the added detail and sharpness comes with one downside and it is that pictures with Deep Fusion have a bit more noise in them, especially when you have a spot of the same color. Take a look at a few crops right below to see how the noise is way more noticeable when Deep Fusion is enabled:
Conclusion
At the end of the day, Deep Fusion is here and it works quietly behind the scenes to bring you better photos with sharper detail and better contrast at the expense of slightly more noise. It's not the game-changer that you might think it is and the difference is not really noticeable when you look at the photos on the small screen of your phone. However, if you take a look at the pictures on a bigger screen, you will be able to see an improvement, so much so that images before Deep Fusion would appear to lack in detail and be a bit too soft.
Don't forget that while you don't have a switch to easily turn the feature on and off, you can go into Settings, then Camera, and under the Composition tab, you have the option
"Photos Capture Outside the Frame"
. Deep Fusion will work only if this feature is disabled, so if you don't like the added sharpness with Deep Fusion you can simply do the opposite and enable this toggle in settings.