Dedicated "RAZR" site shows off the DROID RAZR M, RAZR HD, and RAZR MAXX HD
7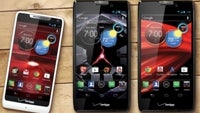 If you can't get enough of the DROID RAZR M, DROID RAZR HD, and DROID RAZR MAXX HD, Motorola now has a new
RAZR web site
dedicated to the three devices.
The site begins by showing all three devices next to each other. You can then move to the right, which starts your day at 7am "
charged and ready
". At 9am you're "
full screen ahead
" as you use the pre-installed Google Chrome browser, then take a coffee break at 11am as you "
clear a path
" using Google Maps with Navigation. By 3pm you want to watch some YouTube videos as the battery remains "
robust and resilient
", and come 5pm you want to put on your "
game face
" by downloading and playing Need for Speed from the Google Play Store. Later at 8pm you want to "
touch base
" with video chat in Google+, before "
skipping town
" at 10pm and placing the phone into Car Mode while the Smart Actions help to save battery life, then at 12am midnight you're "
ready for more
".
Other areas of the site allow you to compare the specs of all three phones side-by-side, such as their battery life, screen size, camera, and overall dimensions. Or you can click on a specific model and get even more detailed info, as well as sign-up for E-Mail alerts.
source:
RAZR by Motorola