Deca-core Helio X30 rises against Snapdragon 835 with 10nm process, PowerVR graphics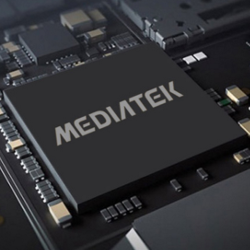 China is now the biggest phone market in the world, and MediaTek chipsets power a lot of the new phones outed there. That leaves the local chip giant in an enviable position, and stimulates it to strike above and beyond in order to keep up with the Snapdragon and Exynos processors in this world, not mention the Kirins.
Imagination Technologies just announced that
MediaTek's Helio X30
- essentially the third chipset produced with the latest 10nm process - will feature its PowerVR GPU inside. The 10nm node offers increased performance at a fraction of the power consumption that 14nm chipsets like the Snapdragon 821 offer. The X30 chipset features a whopping deca-core CPU. The most powerful tasks are assigned to a pair of Cortex-A73 cores running at a clock speed of 2.8GHz, then four Cortex-A53 ones with a 2.2GHz clock speed handle middle of the road chores, while another quartet of Cortex-A35 cores takes care of the light housekeeping at speeds up to 2 GHz.
The chip supports up to 8 GB of RAM, but all those trendy 10nm chipsets like the Snapdragon 835 and Exynos 8895 do too, so our attention perked up when we heard that it comes with a Power VR GPU. Those graphics subsystems have been widely utilized in iPhones, albeit heavily modified, and it is intriguing to see them in a MediaTek chipset, to say the least, as GPUs were the weak point in them before. Imagination says that the X30 has a quad-core PowerVR GT7400 Plus GPU, so the new chipset now ticks all boxes - it is powerful, frugal, and should offer great graphics processing, so we can't wait for someone to scoop it up and benchmark the resulting phone against, say, the 10nm Snapdragon and Exynos processors that will be in the
Galaxy S8
.
Imagination's PowerVR graphics provide huge performance boost and power savings in MediaTek's new Helio X30 chipset
New flagship smartphone processor contains advanced PowerVR Series7XT Plus GPU
LONDON, Feb. 27, 2017 (GLOBE NEWSWIRE) -- Imagination Technologies (IMG.L) announces that MediaTek Inc. selected its PowerVR Series7XT Plus GPU to achieve higher performance and lower power graphics in its new flagship MediaTek Helio™ X30 processor. The full-featured 10-core Helio X30 is MediaTek's most advanced smartphone chipset to-date, with graphics that achieve a 2.4x performance boost and power savings up to 60 percent compared to the previous generations.

The MediaTek Helio X30 SoC, manufactured in TSMC 10nm process, brings a new level of computing performance, power efficiency and multimedia features to MediaTek's Helio family of processors. Imagination's PowerVR GT7400 Plus GPU delivers advanced high definition graphics and superior performance for vision and computational photography-based applications. It includes full hardware support for tessellation and ASTC LDR and HDR texture compression standards.
"The combination of MediaTek's processing technologies and the PowerVR Plus GPU in the MediaTek Helio X30 enables our customers to create smartphones that deliver great user experiences," said Jeffrey Ju, EVP and Co-COO of MediaTek.
Says Mark Dickinson, EVP of the PowerVR business unit at Imagination, "The MediaTek Helio X30 is another impressive accomplishment from MediaTek and we were delighted to work with them to support development of the chip's advanced graphics capabilities. In our strategic collaboration, MediaTek has now combined its unique expertise and innovative technologies with our high-end XTP series of GPUs to create compelling and differentiated devices across the mobile segment."
About PowerVR GPUs
The PowerVR graphics processor (GPU) family leads the market in technological capability, roadmap breadth and ecosystem, setting the benchmark for mobile and embedded GPUs. PowerVR is the leading graphics technology because it is based on a sophisticated and unique architecture. PowerVR's efficiency through tile-based deferred rendering (TBDR) ensures the lowest possible bandwidth usage and the lowest amount of processing cycles per task, and all of this leads to high performance efficiency and the lowest power consumption per frame, outperforming other solutions. OEMs using chips with PowerVR inside can translate this advantage into products that provide the most amazing visual experiences with the longest possible battery life.
About Imagination
Imagination is a global technology leader whose products touch the lives of billions of people across the globe. The company's broad range of silicon IP (intellectual property) includes the key processing blocks needed to create the SoCs (Systems on Chips) that power all mobile, consumer and embedded electronics. Its unique multimedia, processor and connectivity technologies enable its customers get to market quickly with complete and highly differentiated SoC platforms. Imagination's licensees include many of the world's leading semiconductor manufacturers, network operators and OEMs/ODMs who are creating some of the world's most iconic products. See: www.imgtec.com.