Deal: the HTC One M9 can be snapped up at a discount
8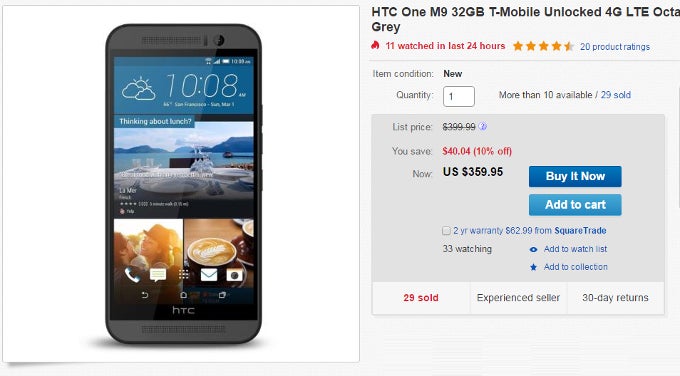 HTC's old flagship One M9 is available at 10% off
If you're in the market for a new smartphone and don't want to pay the price of some recent industry top-enders, plenty of last year's handsets have steam left in the engine, The
HTC 10
is arguably the best handset produced by the Taiwenese firm in a while, and
certainly impressed us when we reviewed it
a few months back. The preceding
HTC One M9
remains
a very capable customer
, though, and if you don't mind rocking a device that was announced more than 18 months ago, you can save a tidy sum on the former flagship.
The popular Gunmetal Gray flavor of the device is available new and unlocked on eBay for $359.95, which is a good 40-buck saving on the usual price. By comparison, the same model retails on Amazon for $500. If you can see yourself rocking either the Gold or Silver/Gold configurations, these models can also be had at $359 and $339 respectively.
~$350 for a well-built handset with a Qualcomm Snapdragon 810 is certainly not a bad deal, and considerably cheaper than the $600 HTC 10 as it is priced on Amazon. It does come with a 5-inch display, which may suit those with a liking for more compact handsets. If you're a phablet chaser, however, you'll probably want to skip the One M9 altogether.
Take a look at the device up close in the gallery below and if you do wish to purchase the handset, check the source links below.