Deal: save a massive $160 on the Moto 360 Sport
8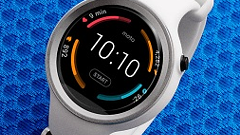 If you're among the few yet to have delved into the smartwatch market, well, your apprehension is certainly justified. The fledgling product category looks somewhat lost in the tech wilderness just now, with most of the early excitement having made way for apathy. Motorola was among the first to introduce wrist candy for Google's Android Wear in the form of the
Moto 360
, and since, the wearable has been treated to an upgrade or two. If you've been tempted by the slick designs of the Moto range but have yet to bite the bullet, you may be perturbed by an eye-opening deal for the Moto 360 Sport.
With an original retail cost of $299, the Moto 360 Sport can currently be snagged for a mere $139.99 courtesy of Amazon. The price, which is applicable to the white color variant, is as yet the cheapest we've seen for the device. Not only is it a decent deal on a nice-looking bit of kit, but the device should be in line for an update once the Android Wear 2.0 care package is released.
As the name entails, the Moto 360 Sport is designed for fitness folk, hence its silicone band. Having said that, there's no rule preventing less active techies from snapping the gadget up at the current price.
To reiterate, only the white model is below the $140 threshold at this point. Amazon has the black version for $199.99 and the flame option for $167.50. If you're interested in grabbing the Moto 360 Sport at this low price, please hit the source link below.
Recommended Stories