Deal reached in UK, 4G/LTE will build out much sooner than initially planned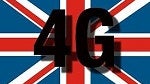 It was not even two weeks ago when we learned that the four big carriers in the UK, Vodafone, EE, Three and O2 were
in discussions with the nation's telecom regulator, Ofcom, to examine an accelerated timetable
to auction off and provision the spectrum to be used for 4G wireless services.
In what can be described as an impressively short time period, a deal has been brokered. The timetable will be shortened by as much as five months which will allow the carriers to bring LTE to market much sooner than originally planned. Instead of an autumn 2013 roll out for LTE, it could be as early as May 2013.
The spectrum to be used for 4G is in the 800MHz and 2600MHz range, and is currently used for TV broadcasts. Before the carriers can set up and sell their LTE offerings, that spectrum must be vacated by its current "tenants."
"Following discussions with TV broadcasters, Digital UK and the transmission company Arqiva, Ofcom has secured the earlier release of frequencies that were previously used for digital-terrestrial broadcasting.

This spectrum will now be cleared and ready for 4G mobile services across much of the UK five months earlier than previously planned, from spring 2013. This has only become possible in the past few months as a result of the significant progress that has been made to date with the digital switchover and the clearance programme itself, which has been running ahead of schedule.

This means that more UK consumers will be able to benefit from a competitive market for super-fast mobile broadband sooner than previously possible."


- Ofcom official statement
One of the main reasons why these discussions were so successful, so fast, could clearly be attributed to EE, who had received the go-ahead from Ofcom to recalibrate their existing 1800MHz spectrum from 2G to 4G. That put enormous pressure on the other carriers to find a way to get in the 4G as quickly as possible. In a market as saturated as the UK (and the rest of Europe for that matter), such an advantage from EE could make it rather difficult to retain customers for a year or more in the face of new technology on the horizon. Under this agreement, EE will still have its edge as it lights up its LTE network before the end of this year. However, the competition will not be a full year behind EE either, which means that customers of EE's competitors may not feel as much of an itch to switch.
Matthew Howett, an analyst with Ovum, made an interesting observation in the wake of this announcement, "In a matter of weeks, the UK has gone from being behind countries such as Angola, Azerbaijan, and Uzbekistan to one with one of the most ambitious 4G roll out strategies we have seen."
It would appear that September was a very productive month for the wireless industry and regulators in the UK. Welcome back to "first world" status.
sources:
Mobile Magazine
,
TechCrunch