Deal: get the Motorola Moto 360 Sport at a 30% discount from Amazon or Best Buy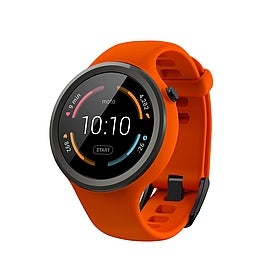 If you're on the market for a sporty-looking Android Wear watch, you might want to check out the
Motorola Moto 360 Sport
, which is currently available at a notable discount in the US.

The Motorola Moto 360 Sport is usually priced at $200, but it turns out that both Amazon and Best Buy are selling the wearable at just $140. The price is good for brand new units and represents a solid 30% discount compared to the usual selling price (Motorola sells the watch at $200 on its online store).

Best Buy only has the black version of the Motorola Moto 360 Sport on sale. The black version of the watch is out of stock at Amazon, but that's where you can get the white and the flaming red options.

Just in case you need a refresher, the Motorola Moto 360 Sport launched back in January this year carrying specs such as a 1.37-inch IPS display running at 360 by 325 pixels (unfortunately, the display is not completely round, featuring a black bar at the bottom), a Qualcomm Snapdragon 400 SoC with a 1.2GHz quad-core processor, 512MB of RAM, 4GB of RAM, and a 300mAh battery.

If you don't speak tech-specs, what you should know is that this is a current-generation Android Wear device with run-of-the-mill specs, a semi-round display, and silicone sport bands.

What do you guys think, is the Motorola Moto 360 Sport worth $140? Or are you waiting for the smartwatch industry to mature before purchasing a new smartwatch?